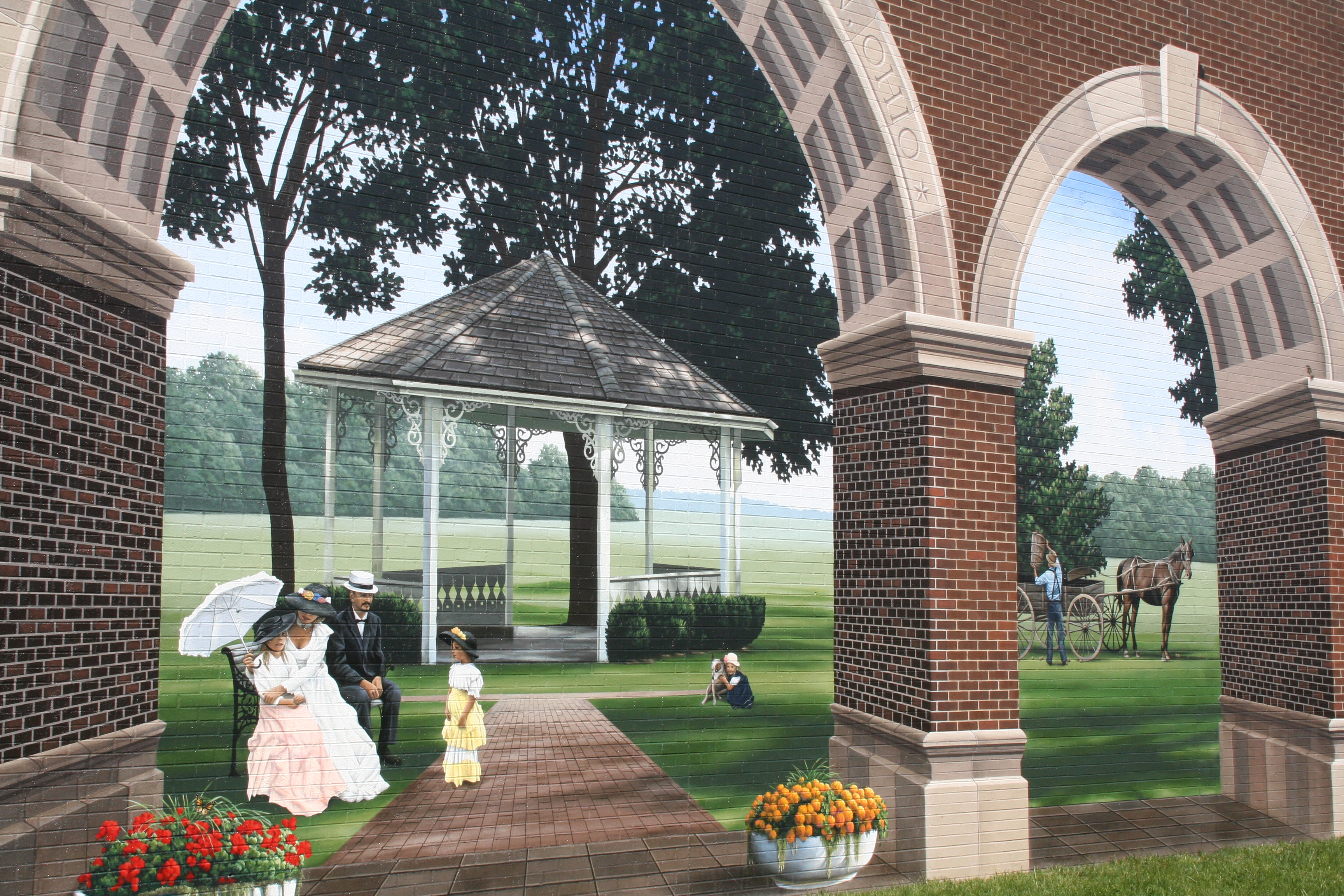 Franklin's Main St. Murals
Transportation & Bicentennial Murals, 6th and Main Sts. Commissioned for the Ohio Bicentennial, this mural features modes of transportation that were the backbone of Franklin's success. Includes the only Ohio Bicentennial Mural that's not on a barn.
Veteran's Memorial Mural, 422 S. Main Street, on the side of VFW Post 7596. A tribute to the Armed Services.
Trompe l'Oeil Mural, Huntington Bank, 4th & Main Sts. A fool-the-eye mural that looks 3D
Delivery Mural, Pisanello's, 4th & Main Sts. The mural continues inside.
Suspension Bridge Mural, 3rd & Main Sts. The third Roebling suspension bridge was in Franklin, following Cincinnati and Brooklyn.
Old Time Diner Mural, 3rd & Main Sts. Evokes nostalgia for the 1950s.
4th St. Murals
Franklin Street Scene Mural, Franklin Public Library, 4th & Riley. Inside . Familiar Franklin buildings.
Patriotic Mural, American Legion Post 149, 126 E. 4th St.
Water Tower Mural, top of 4th St. hill. One of Franklin's lions is painted on the city water tower.
Millard Drive
Beach mural outside. JD Legends, 65 Millard Dr.
Mural artist: Eric Henn. www.erichennmurals.com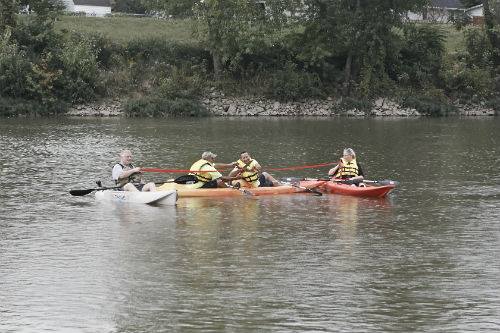 Great Miami Riverway: The Great Miami Riverway: 99 miles of river, paved trails, and connected communities in southwest Ohio. Learn more. 
Bike Trail: Great Miami Bike Trail The trail is just a block from downtown along the banks of the Great Miami River and passes remnants of the historic hydraulic headgates and dam as well as the historic log cabin post office, amazing murals in downtown and historic homes. It continues 30 miles north into Montgomery County and Dayton MetroParks. www.miamiconservancy.org 
Parks: Our area offers an abundance of parks and outdoor recreation spaces.
Bowling & Sand Volleyball: JD Legends and Strike Zone Lanes is in entertainment complex that brings in both national musical acts and local favorites. They offer year-round bowling and 3 outdoor sand volleyball courts amidst the largest outdoor tiki bar and concert venue in the state. (937) 746-4950. www.jdlegends.com