Joining is easy and investing in a chamber membership brings a number of benefits, including both tangible savings and opportunities for networking and event publicity!
It's easy:
1. Complete an application! Our membership investment rates range from $150 to $400/year depending on the number of employees. The non-profit rate is $120/year. We also have a membership tier for home-based artists/craftspersons ($50/year) and a tier for Emerging Entrepreneurs (high school and college students who have their own businesses) ($25/year).
2. Pay your membership investment through the application form.
3. See how your membership helps you get connected, get noticed, and save money!
What are the benefits of investing in a membership with Chamber45005?
The three main benefits are getting noticed, making connections, and saving money!
Access to 200+ other chamber members, both businesses and non-profits
First-year free membership for organizations in the 45005 zip code
Saving money through discounts with our benefits partner, SOCA (Southern Ohio Chamber Alliance). Available benefits include health insurance, workers' comp group-rating plans (our most popular benefit), and more. One of our members saved over $100,000 on insurance through their chamber membership.
Meeting potential customers through networking events: luncheons, women's networking events, after-hours gatherings, etc.
Promotion of your events and announcements in our weekly e-newsletter
Visibility through event sponsorships of events
Online visibility in our website's member directory
Member spotlights for sustaining members on our website and Facebook page
Reaching customers/clients through promotional material displayed in the Chamber office
Saving money through member-to-member discounts
Having your info shared via the chamber's social media blasts (Facebook, Twitter, and LinkedIn)
A chance to give back to the community through our Young Entrepreneur scholarship and fundraising support for one of our non-profits each year.
What options are available for energy sustainability?
We offer the Chamber Sustainability Program powered by Viridi!
ABOUT THE CHAMBER SUSTAINABILITY PROGRAM  The Chamber Sustainability Program, provided by Viridi, offers a comprehensive menu of energy-related sustainability solutions for our members' homes, small businesses, and large commercial operations.
GO GREEN! Renewable Energy Certificates (RECs) are a simple, practical, and affordable way for business owners to green up their electricity at home, for their business, and for their employees' homes. To learn more, visit https://viridi.eco.
ENERGY MANAGEMENT & SUSTAINABILITY
Through the Chamber Sustainability Program, members can get assistance in running their operations more efficiently and finding affordable ways of reducing their carbon footprint.
Renewable Energy Certificates (RECs)
Carbon Offsets
On-site Solar
LED Lighting
Rebates & Grants
Real-time Monitoring
Energy Efficiency Audits
Chamber members can use this benefit to develop and meet their sustainability goals through our simple, practical, and affordable sustainability solutions. For more information, contact chamber@viridi.eco.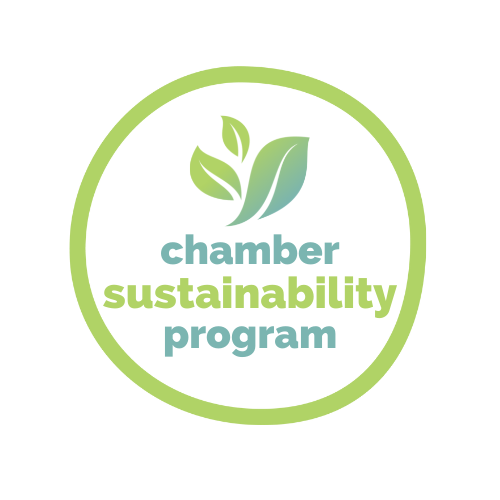 Can members save money on shipping costs?
Yes! Chamber members have access to two shipping savings benefits to fit their shipping needs: exclusive FedEx discounts available through the FedEx Advantage program and freight savings with competitive carriers through PartnerShip.
Are discounts available on office supplies?
Yes! We offer Hub 365. With discounts on everyday purchases through Hub 365, the savings can really add up. Taking advantage of benefits can even cover the cost of your membership.
Enjoy substantial savings from some of the world's most recognized brands - including Office Depot® OfficeMax®, Target, AMC Theatres, Sam's Club and more!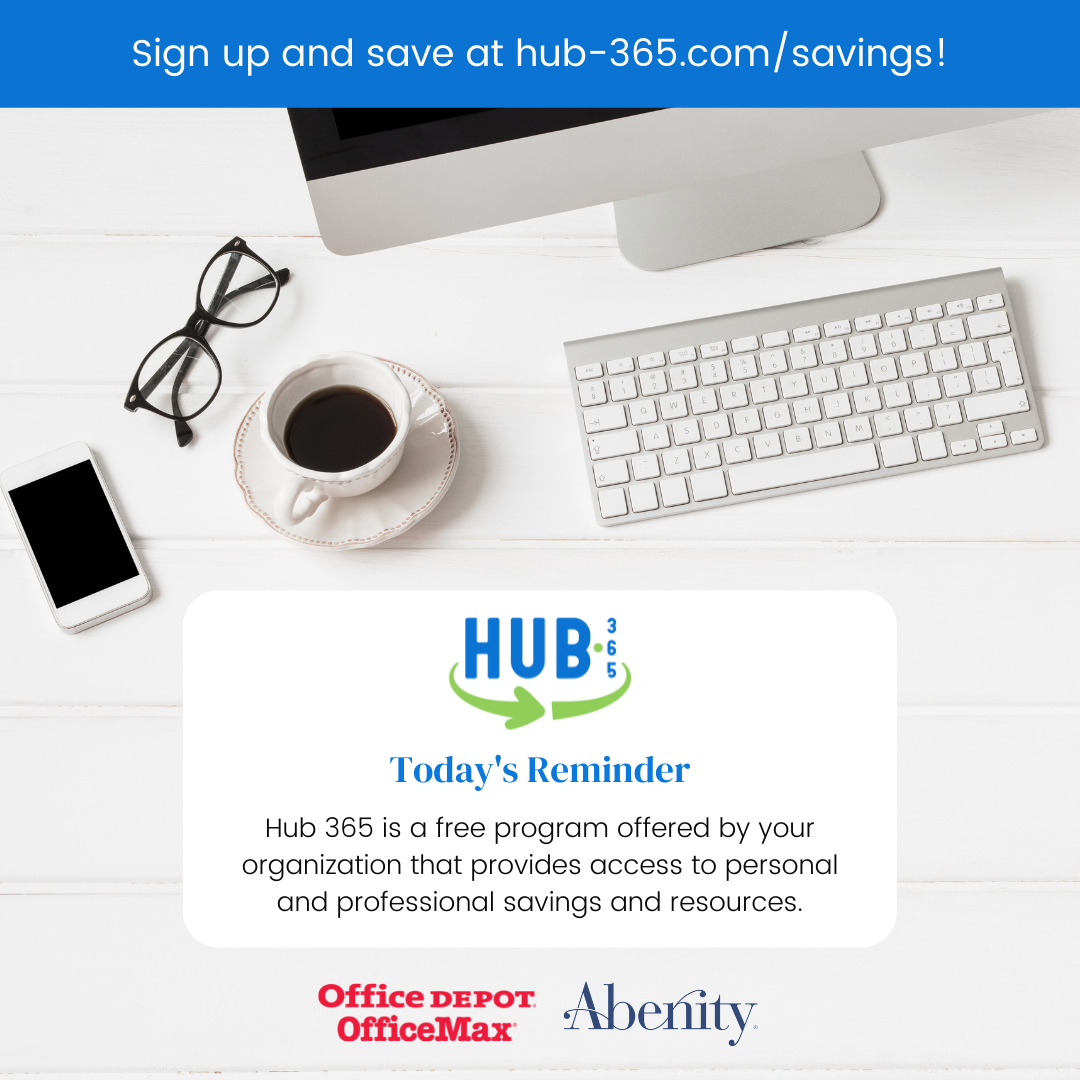 Does the Chamber have a women's group?
Yes! Our group is called F.E.W.L and they meet on the 4th Wednesday of the month at 9 a.m. at the Anderson Life Celebration Center. See the site's event's page for details. Reminder: no meeting June 2022.
The group also has its own Facebook page.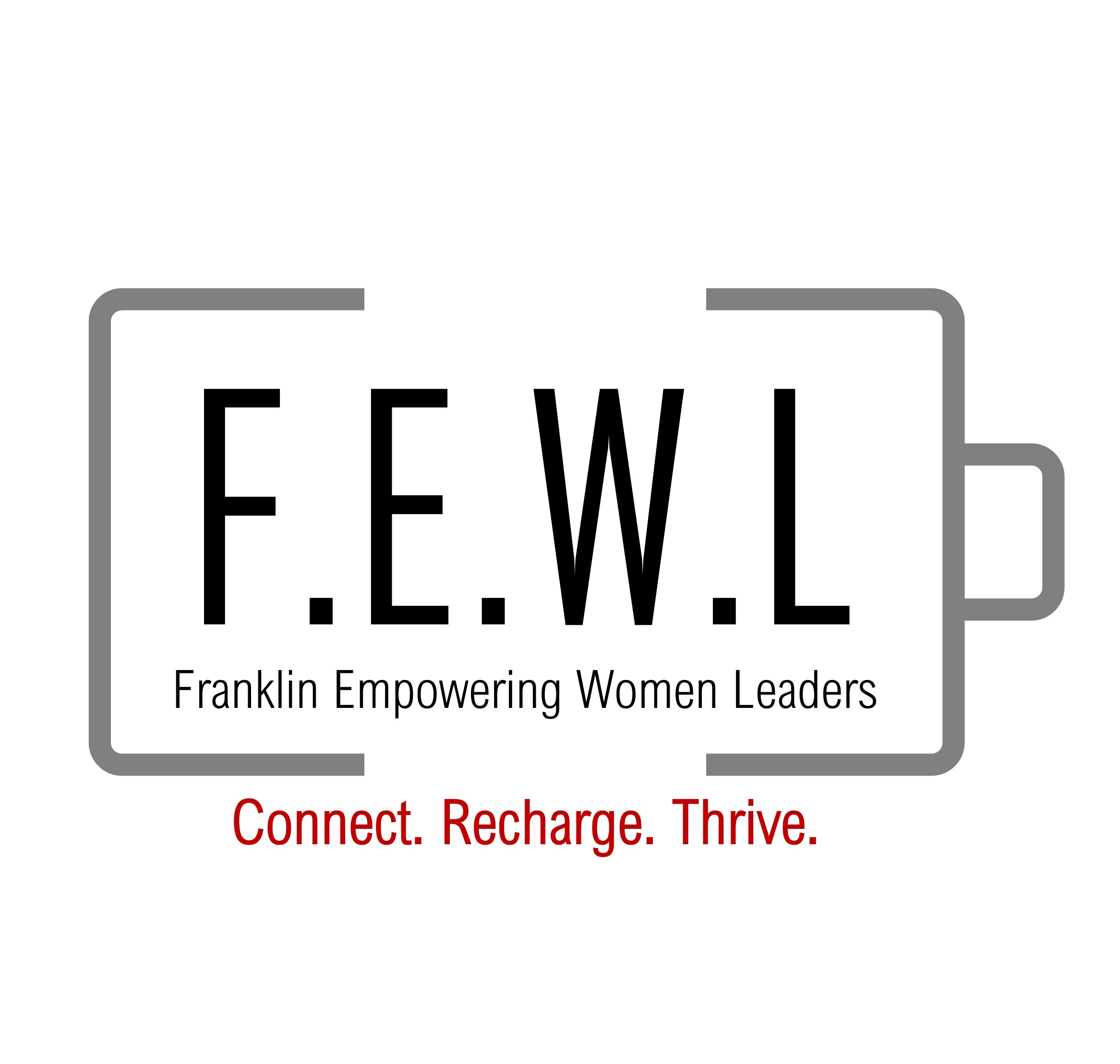 Does the chamber offer discounts on merchant services?
Yes, our benefit partner for merchant services is Elavon. Learn more here. We can put you in touch with the local rep, John Webb, who can assist you in getting set up with Elavon. 
Advantages of Choosing Elavon:
All the payment types you need

Elavon enables businesses to accept all major credit and debit cards, corporate, purchasing commercial cards and electronic checks.

Latest payment technology

Smart/Chip/EMV terminals, mobile wallet payment technology, billing and invoicing, medical payments software, in-person, online and tablet solutions for all of your business needs. 

Data security 

We help you protect data with strong encryption and tokenization technology with our Safe-T suite solution.

Get the answers you need when you need them

We are here when you need us with 24/7/365 access to Customer Service.
Feel secure in knowing that you have a dedicated account manager to help you manage your payments efficiently.   

Convenient, Easily Accessible Reporting

Monitor your account at your convenience from any web browser.
What kind of health insurance is available?
Your small business deserves predictable rates and competitive benefits that help keep your employees healthy and your costs in check. The Chamber offers the Anthem SOCA Benefit, a self-funded medical plan for employers with at least 2 enrollees and no more than 50 employees. This is now available to sole proprietors. 
The SOCA Benefit Plan offers a self-funded solution for small businesses that lets you save on overall costs. How does it work? The SOCA Benefit Plan is a multiple employer welfare arrangement (MEWA). MEWAs allow small businesses to join together to share in the overall claims risk. By being part of a large, self-funded pool, eligible businesses have financial protection backed by Anthem's stop loss coverage.
One of our members is saving over $100,000 through this plan; another is saving $85,000. Learn more. Call the chamber office at 937 746-8457, and we can put you in touch with the broker we partner with, Risk Strategies. 
This short video can tell you more: https://www.youtube.com/watch?v=B1JV4BBuDvs
This podcast can dispel common fitness myths.
Can the Chamber45005 help save money on prescriptions?
Yes! We partner with RxCut. Using their card can save you up to 80% on your generic prescription medication. Learn more here.  You can print cards yourself or request them from the chamber office. 
Is there a way to save money on our energy costs?
Yes, our chamber offers savings through Community Energy Advisors.
Chamber Energy Program
Community Energy Advisors (CEA) is a Public Utilities Commission of Ohio certified energy management firm that educates and empowers organizations of all sizes to maximize the economics of their energy assets. Through the Chamber Energy Program, CEA provides Chamber members with Education, Savings, and Protection on both regulated and deregulated energy expenses. With a credible partner looking out for your bottom-line, members enjoy peace of mind and budget-ability when it comes to your utility costs. Learn more here.
If you would like a complimentary bill review to see how much you can save on your electricity and natural gas, simply choose one of the following options.
• Call 330-208-2082
• Email a recent copy of your utility bill to chamberenergy@ceateam.com
For more information, visit https://chamberenergyprogram.com.
What BWC group ratings plans are available through Hunter Consulting? 
Hunter Consulting Company provides comprehensive consulting and claims administration in the area of Workers' and Unemployment Compensations. Learn more about Hunter's comprehensive services. 
The group-rating plan available through Hunter is our most popular and utilized benefit. Fill out the AC-3 online for a quote. 
Enrollment for the 2032 Policy Year is now open. Learn more.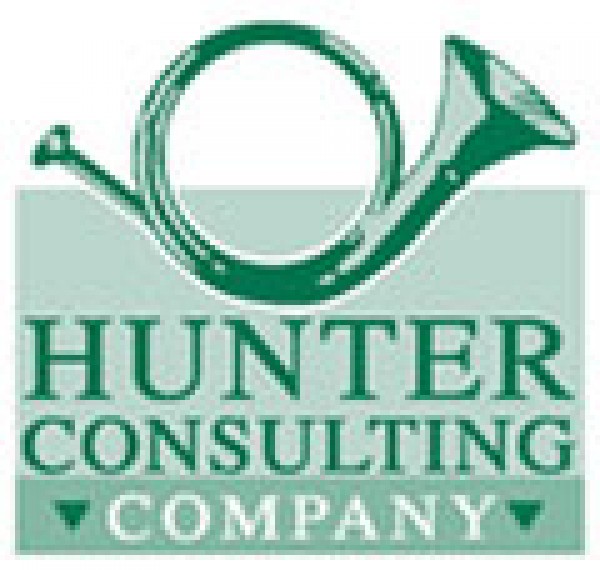 How can I connect with other chamber members?
Networking is the best benefit of being a Chamber member! Get to know your fellow members and be astounded at the resources you have at a handshake.

Monthly Chamber Networking/Learning lunch meetings are usually the third Monday of each month at 11:45 a.m. Members are asked to RSVP through EventBrite by the Thursday prior to the meeting. Speakers and networking are the focus. 

Many of our meetings are "on the road" at member locations, offering a great way to learn more about fellow members and their facilities. Meetings typically conclude by 1 p.m.
The Chamber's Women's Group, F.E.W.L., meets the 4th Wednesdays, 9 a.m., at the Anderson Life Celebration Center. See this site's events page for details. 
Can chamber membership save money on website design?
Yes, we have a partnership with Legend Web Works that can save you $500 on a new website build. Learn more here.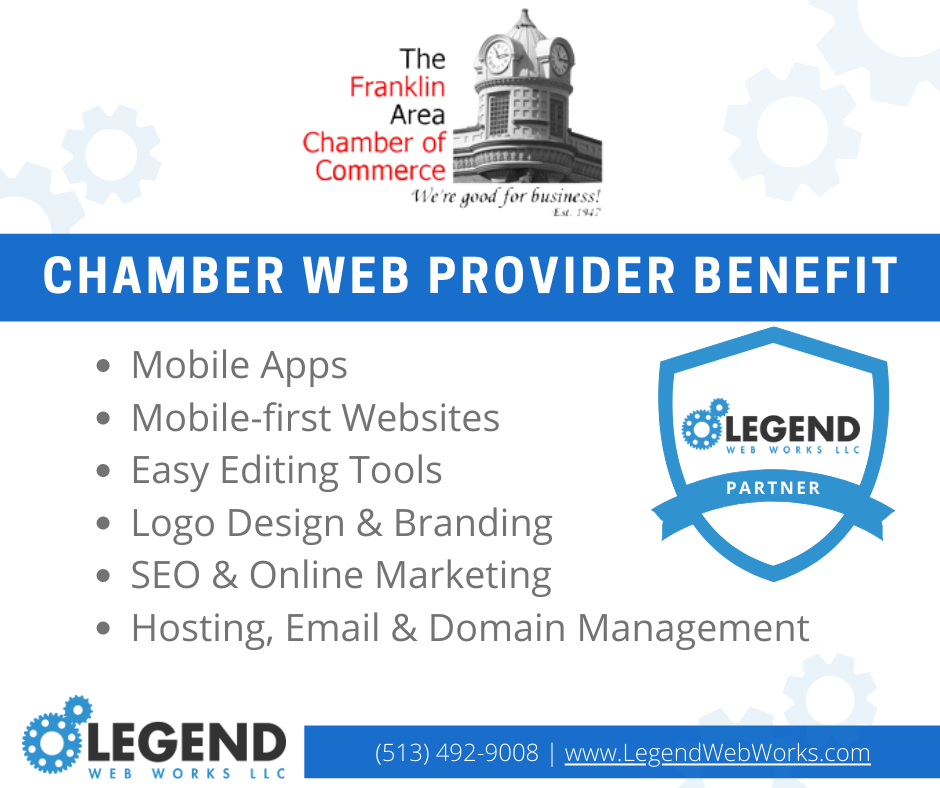 What member-to-member discounts are available?
Member-to-member discounts encourage Franklin Area Chamber members and their employees to prefer other Chamber members when purchasing goods and services. Participating is a great way to attract customers, to build relationships with customers, to save money, and to invest in our local economy. 
This list of participating organizations is being updated constantly. Please check back frequently. 
First Realty Group, Inc:
 One hour of FREE consultation on any real estate matter: residential, commercial, investment, or industrial, perhaps to review current lease renewal options or better negotiate your next terms. Call; they'd like to help! 
(937) 435-5000
.
Harrison's Pro Tree Service: 5% discount to Franklin Chamber members. (937) 974-6891
Integrity Automotive Service: 10% off repairs to all Franklin chamber members. (513) 727-8191
Schmidt Automotive: Franklin Chamber members receive 15% off labor with $250+ repair service and also, free wiper blades on their birthday. (937) 514-7860.
Unifirst Corporation: 20% discount for any rental or direct purchase for Franklin Chamber members. (937) 746-0531